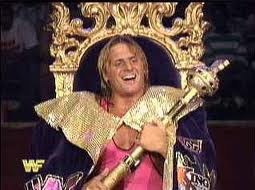 (Explicit Content) Addie and Mo are here once again with a special episode of We Talk Wrestling talking about and playing the clips of some of their favorite wrestling interviews ever.
What all do they play and talk about? How about CM Punk's earthshaking RAW shoot promo. Sgt Slaughter saying the Pledge of Allegiance to The Iron Sheik. Dusty Rhodes talks about hard times, and Archie "The Stomper" Gouldie bears his heart to you in response to Bad News Allen's attack on his son just to start.
Also Randy Savage, Jake Roberts, Kurt Angle, Ric Flair, Steve Austin, The Rock, Mick Foley, Joey Styles, DDP, Bret Hart, Roddy Piper and the greatness of Owen Hart. This show was a lot of work to put together but worth it for the fun of listening back to almost 2 1/2 hours of some of the greatest talkers in some of their greatest moments that you remember and some you don't, so be sure to listen for the most fun you may have all year and hit the share buttons to spread the word.
Download (right click): We Talk Wrestling July 01, 2012 ((Explicit Content)
Podcast: Download (Duration: 2:28:29 — 68.0MB) | Embed