by Stephen Ajamie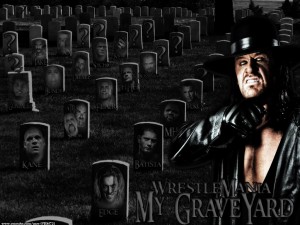 Forget about Money in the Bank. Forget about AJ and who she ends up with. Forget about RAW 1000. Forget about Kharma and her status with the company. What we really care about is who the Undertaker faces at Wrestlemania and whether the streak should end.
I've been discussing those points on a wrestling facebook group, and felt enough ideas brewing that I had to put them on paper or out in a blog. There's a few different ways to look at this streak phenom and how it should go.
For me, it's crazy to think that there's a DVD out celebrating the Streak, but the Undertaker is still good to go for another Wrestlemania. Does that mean the streak ends? If I was writing, yes, and it would end to a cocky heel who says they're finally putting the big dog out of his yard.
But there are apparently three choices for the Taker to choose for his streak fest at Wrestlemania, and I can give out reasoning for each of those guys to be in the match, but not sure I can give out reasoning why each one should win.
The Rock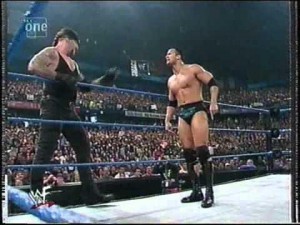 This is probably the least likely choice in my mind as I feel like if the Rock is going for the WWE title, wouldn't it make the most sense to do it at Wrestlemania? I wouldn't mind if he was coming back for Summerslam, but feel like that's going to be right around the corner, and there wouldn't be enough time to build that up. And I can't imagine Taker having the title anytime soon, so not much sense in this match.
John Cena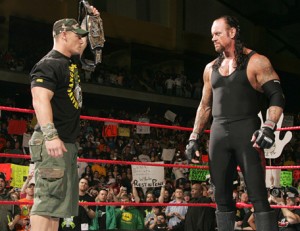 Obviously back in the day there was some small segment in the back where these two met up and said hey. But I can't recall anytime that they've actually gone at each other. Someone might have to help me out with that. Therefore, this could be another of these first time and last time matches for Cena. I'd almost have to believe that Cena should end the streak since that would be a cherry on top of his career as well. Especially if he walks away with the money in the bank win this Sunday.
Brock Lesnar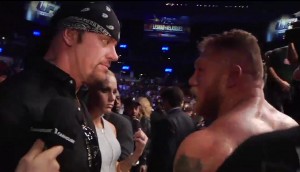 This is actually my choice for the Undertaker to face. We've seen Brock pick up the win against Taker back years ago, and even winning a Hell in the Cell match. So what better way for Brock to make his mark than to beat the Undertaker at Wrestlemania? Then Brock leaves the next night and goes out with that feather in his cap.
Who out of these three choices would you put in the match for Taker?  Or what other options would you put together?