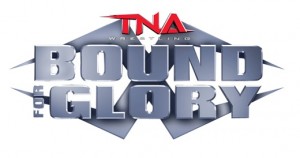 It's the time of year where TNA puts on what they claim is their biggest show of the year, Bound For Glory. While I have personally looked forward to Lockdown on a more consistent basis over the years I can see why TNA pushes this particular show as it is the anniversary of their move to a monthly Pay Per View format (the first was Victory Road in early November of 2004). This was a show that I really thought that I would be looking forward to and, had this show been in September, I think that I still would. The last six to eight weeks of Impact have really lost momentum, in my opinion, and that has lead to my anticipation for this show being lessened. I have wanted to do a TNA pay per view preview for a few months now but there have not been any matches announced far enough in advance for me to write a preview. Bound For Glory at least has eight matches announced at the time that I write this, with the possibility of another match or two being added on the online show.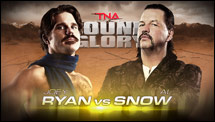 Joey Ryan vs Al Snow
This is one of the matches that I thought that I would be looking more forward to than I am. Al Snow endeared himself to fans as the father figure trainer on the original Tough Enough in 2001. It happens to be 2012 and it's a different company that doesn't have access to the footage to show Snow as this character. TNA has really just thrown Snow into this by having him as a judge for Gut Check and having Ryan disrespect him verbally and throwing a beer in his face. This match should be serviceable but in no way a vehicle to shoot Ryan into TNA's must see club. I'm not sure if Taz can go in the ring or not but he would have been the better choice, in my opinion, as he has more of a connection with fans not only from his more successful career but as the TNA commentator. I am assuming Joey Ryan goes over as there is no upside to an Al Snow win.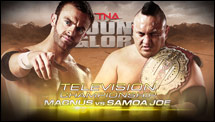 Television Title Match: Samoa Joe vs Magnus
This match was just added but makes sense given the history that these two men have with each other. Sure they are former tag team championship partners but I am referring to the attacks that Magnus have been doing to Joe over the past month. This match is a situation where it makes sense to have without a big announcement by the company. When I saw it on my screen I thought OK that makes sense. With Joe the new TV Champion, the match takes on some added importance. I don't see Joe losing this early into his reign but I would like to see Magnus hold that belt eventually.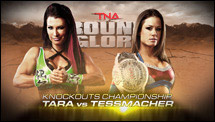 Knockouts Title Match: Miss Tessmacher vs Tara
This match has had a decent build to it with a side angle thrown in. Tara and Tessmacher (Miss, not Brooke so people don't get confused, Brother) have done the classic "we were friends and the teacher turns on the student" gimmick and I think that is fine for an undercard woman's match. The side angle is the mystery boyfriend of Tara from Hollywood, who I assume is Eric Young, and I'm not sure that he is revealed at Bound For Glory as I would expect that angle to continue a few more weeks. I would expect Shane Tessmacher to keep her title in this one and Tara goes off to a non title feud with ODB after the Eric Young reveal. Tessmacher would benefit from more Gail Kim matches post BFG.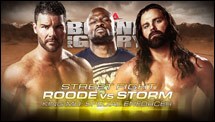 Street Fight: James Storm vs Bobby Roode with special ref King Mo
When I talk about my interest in this show fading, this is the poster match for that sentiment. It was almost one year ago that this was looking to be the hottest thing in the company. After a loss at Lockdown, James Storm went "home" for a while and took all of this momentum with him. The problem is that when Storm returned in June, he left that momentum at home. I'm not as down as others that this isn't a title match but the final build to the actual match has been down right awful. The fact that Bobby Roode cost Storm his Bound For Glory Series semi final match has not be keyed in on enough, in my opinion, and it seems like TNA is just counting on the fans remembering everything that these two men have been through in the past year. I watched Storm call out Roode on Impact a few weeks ago and saw the two brawl for 15-20 minutes. This is also known as a Street Fight. In other words I've already seen the big match four weeks before the pay per view. The only difference is that King Mo will be the special ref. Nobody knows who the hell this guy is. He's not Mike Tyson,hell he's not even Ken Shamrock in terms of mainstream popularity. I just hope TNA is not surprised when Storm becomes a permanent upper mid carder after a loss to Roode. I expect Mo to go heel and become Roode's bodygaurd. This is the right move for Mo but another nail in James Storm's coffin. That's too bad. I like Storm but apparently TNA doesn't see that same thing that I do and, if it were contractually possible  (I know it's not), I would suggest a WWE jump for Storm.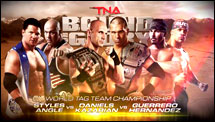 World Tag Team Title Of The World Match: Kaz and Daniels vs AJ and Kurt vs Chavo and Hernandez
I expect this match to be the best on the card with maybe the main event rivaling it in terms of in ring action. Kaz and Daniels have been the best act in TNA in the past few months and I would not be taking the titles off of them at this point. Chavo and Hernandez are perfect for the tag team division as I don't see either man having any sort of singles run at this point in their careers. AJ Styles and Kurt Angle, however, I think can have a run at pay per view main events against either Hardy or, more preferably, Austin Aries. The fact that Kaz and Daniels have had interactions with Hogan and Sting is another reason that I see them holding on to the titles at Bound For Glory. I could envision a possibility where Hogan has to begrudgingly ask Daniels and Kaz to help him battle two members of Aces and Eights at the next pay per view. That is the situation where I see them losing the tag titles and transitioning them to Armbreaker and Prospect.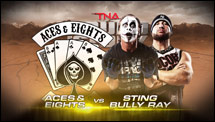 Aces and Eights vs Sting and Bully Ray
Speaking of Aces and Eights, here is what was to be considered the most anticipated match on the show. It was until TNA went off the rails with this storyline. The kidnapping of Joe Park(s?) and trips to the clubhouse are reminiscent of the Dungeon of Doom lair from the mid 90's in WCW. Not good. Bully Ray turns on Sting I assume and is the in ring leader of the gang. I also think that Park goes heel as well with the swerve being that Park and Ray are on the same side. I don't think that the person pulling the strings (Pritchard, Bischoff, Jarrett, and Dixie are on the list) will be revealed at this show as this story will definitely continue. I was really into Aces and Eights over the summer but I really don't care all that much at this point. I'm sure it will be a good TNA moment but not a game changer or ratings mover by any stretch.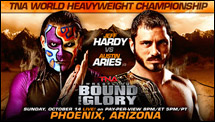 TNA World Title Match: Austin Aries vs Jeff Hardy
My big question is whether this mach or the Aces and Eights match finishes the show. I would vote for the title match, but I'm still not sure which way TNA will go. Jeff Hardy is the company's biggest star and so I could see either man leaving with the title. Personally, I think that it is better to build up Aries with a win and have him go on to face Bully Ray. Yes they have fought before but Hardy vs Bully Ray has been done to death and I am looking to TNA for an alternative not WWE light. As I mentioned earlier, I expect this to be one of, if not the, match of the night from an in-ring perspective. The only thing that would ruin the match for me would be Aces and Eights involvement, which I can't sadly rule out.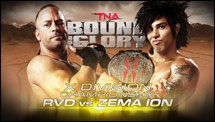 X Division Title Match: Zema Ion vs Rob Van Dam
Sadly there is no issue right now for Zema Ion so the defense of the title is just be a filler match. This match is the epitome of filler as it was made in a 5 minute spot on Impact this past Thursday where Ion  complains of no match and RVD says he can face anyone he wants according to Hogan. The match should be fine in the ring but there will be absolutely no crowd heat for the match. The only heat they may get is if the Phoenix crowd is hot for former WWE stars. The title is on the line and I don't see RVD winning it so I presume RVD  wins the match via DQ on the preshow to further limp into this show.
Well there are my thoughts on the 2012 version of Bound For Glory. There is going to be a Countdown show on Spike TV before the pay per view and a match is scheduled to be on that show but at this point I can't think of another match so the X title match just might be on this show. TNA is all set to run with Aces and Eights and should pull the trigger on the next phase of the story at this show so we shall see if that is a positive or negative for the company. I am at least curious to see how it all plays out with Aces and Eights and hopefully the show will deliver in the ring.
Agree? Disagree? Did I miss something? I'd love to hear from you at addie@wetalkwrestling.com