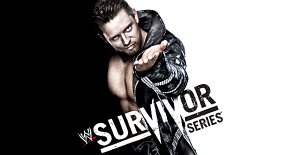 Time flies when you're having fun and here we are at another November. November means one thing for wrestling fans: World War 3. OK maybe not. It's the WWE's 26th annual Survivor Series, this year subject to a three week build after Hell In The Cell. What that means is five announced matches and largely rematches and continued angles from the fall. That is, rightly or WRONGLY, the booking of WWE in this era. Well with that said, here are the matches: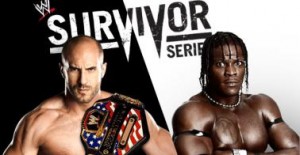 United States Title Match: Antonio Cesaro vs R-Truth
This match came about when Truth saved his former partner Kofi from a beating at the hands of Miz and Cesaro. SInce that time Truth beat Justin Gabriel on Smackdown in what I thought would have been called a number one contenders match but it was never referenced. It seems foolish to take the title off Cesaro at this point, especially with R-Truth on the decline in a comedy role so I have Antonio retaining.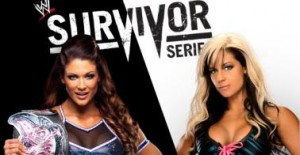 Divas Title Match: Eve vs Kaitlyn
This feud over who hurt Kaitlyn at Night Of Champions continues although this is the first one on one pay per view match between these two women. On the go home RAW, Kaitlyn beat Layla to become the No. 1 contender to Eve's championship. Kaitlyn won the battle royal in August by accident (Eve was supposed to win) to get the shot at then champion Layla. WWE rectified this mistake by having someone take out Kaitlyn backstage and have Eve step in to the match and win the title. This issue has been playing out over months on Smackdown and is one of WWE's more consistent stories. Common sense says Eve is behind it but there has yet to be the reveal by anyone officially. This match will probably be bad, but could go either way. I'll predict a title change here and say Kaitlyn wins.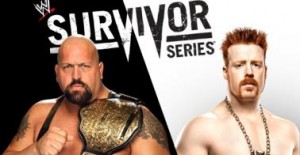 World Heavyweight Title Match: Big Show vs. Sheamus
Last month at Hell In The Cell, Big Show won the World Heavyweight Title much to my surprise. The rematch has largely been focused on Big Show's attacks on Sheamus' "friend" William Regal. It started in England when Sheamus and Regal went out for drinks and Big Show attack Regal at the bar. Cellphone camera footage was used in a moronic way to show how "real" the attack had been. Remember back in the day when the APA would get into a bar fight and there would be a full camera crew there? Didn't bother me one bit. All this did was point out how out of touch WWE is with their storytelling. Ya, we need to think it was real, sure. The beating of his friend is meant to get Sheamus into a more serious mode for the rematch. Much like the Divas title match, I don't really care who wins this one. Sheamus should go into Wrestlemania as champion but that can happen now, next month, or even at the Royal Rumble since the World Heavyweight Title is really just today's Intercontinental Title. Since I am making predictions, I'll go with Big Show retaining.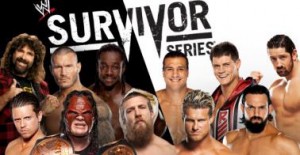 Team Foley (Kane, Daniel Bryan, Randy Orton, Kofi Kingston, and Miz) vs Team Ziggler (Dolph Ziggler, Cody Rhodes, Damien Sandow, Alberto Del Rio, and Wade Barrett)
This, as we termed it on We Talk Wrestling, has been a musical chairs of team members. Miz quits Team Punk, Team Punk becomes Team Ziggler, Wade Barrett joins. Then on the other side you have Ryback out to the main event leaving a void on the babyface team. Foley leaves it up to the WWE Universe by allowing tweets to choose between Santino Marella, Zack Ryder, and Miz. WOW! That's as good of options as Connecticut had in its Senate Race. To no one's surprise the newly babyfaced Miz is now on Team Foley. Since Foley and Ziggler have no issue outside of one promo a year ago, this match just serves as a way to get some guys on the show. Team Hell No and the Rhodes Scholars have an issue for the Tag Titles and Randy Orton has been in a feud with Alberto Del Rio but outside of those two things, there is no real heat to this match. I am a fan of both Ziggler and Wade Barrett so it is my hope that they are the last two survivors for this match.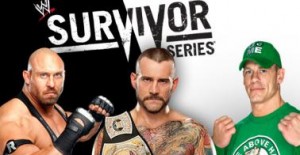 WWE Championship Match: CM Punk vs Ryback vs John Cena
This match at least makes sense to me from a storyline perspective. Ryback got screwed at Hell In The Cell and John Cena, now healthy, went to a double pin with Punk at Night Of Champions. Therefore, both men get a shot and we have a Three Way Dance. Ryback is getting over and the loss at Hell In The Cell did nothing to slow his momentum, if anything it has picked up. While the announcers will be beating the point to death that the champion does not have to be pinned in order to lose his title, I see Punk retaining by pinning Cena. It would be absolutely asinine to screw with the long term plan of CM Punk vs The Rock at The Royal Rumble for the WWE Title. John Cena beat Punk clean as a sheet in a non title match on RAW and Ryback is still being billed as a monster so I see Cena taking the pin for those reasons. This match will be interesting to see how Ryback does in this Triple Threat dynamic. It is usually WWE's booking that has one man knocked out for a while as two men fight., then rinse and repeat for the whole match. Ryback has not really been down and out for any stretch of time so it we'll have to see if WWE sticks with this formula.
Well there you have it. Five big matches announced for what used to be the fourth biggest show of the year. Actually, three big matches and a US and Divas title match but you get the point. Gone are the days when the Survivor Series is built as special. It's a shame, because given the concept, it can extend feuds and start new ones stemming from the gang mentality that are the elimination matches.  One thing is for sure, I am really not looking forward to this show at all. Streaming isn't stealing if the booking is bad, right?
Agree? Disagree? Did I miss something? I'd love to hear from you at addie@wetalkwrestling.com