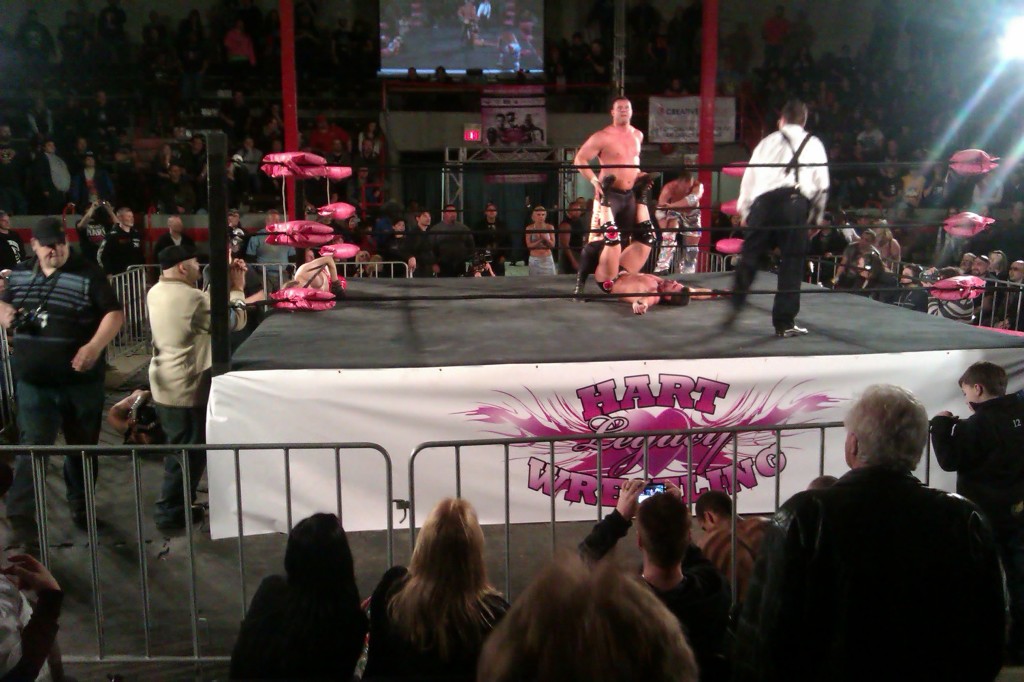 Hey Yo! Addie and Mo headed down to the old home of Stampede Wrestling to attend the taping of the first show from Hart Legacy Wrestling the IPPV Resurrection. Give this short podcast a listen for what they expected going in as they drove to the event and what they thought immediately after coming out of the night and the wrestlers including Konnan, Davey Boy Smith Jr, Lance Archer, Teddy Hart, Bobby Lashley, Lance Storm, Chris Masters, El Generico, Jim Neidhart, Samuray del Sol, Trent Baretta and more.
Download: We Talk Wrestling January 19, 2013: Hart Legacy Wrestling Live Show Recap.MP3 (Warning Explicit Content)
A Blog Report of the show
We had the opportunity to watch the live taping of the Jan 18 2013 Hart Legacy Wrestling and thought we'd send in some thoughts on the show for anyone considering ordering the Resurrection IPPV.
The show was held in the old Victoria Pavilion where Stampede Wrestling ran for so many years. The building holds about 500 for wrestling and was at about 90% capacity so a good sign.
Before the action began they brought out several stars of the past from either the Stampede Territory or who just call Calgary home such as "Champagne" Jerry Morrow, The Cuban Assassin, The Great Gamma, Lance Storm, Abu Wizal, Jim "The Anvil" Neidhart, and Leo Burke. At the end they played a tribute video for the former voice of Stampede Wrestling the late Ed Whalen. After that they brought out Whalen's wife Nomi. The best part of this was when the crowd was chanting Eddie and 80's heel manager  Abu Wizal told the crowd to be quiet causing Nomi, who must be in her mid-seventies, to take a step towards him and Wizal ran and hid in fear behind the Great Gamma. It was funny stuff and a nice tribute overall.
After that Teddy Hart came out to cut a promo.  This was typical Teddy Hart, hard to follow and too long but certainly not boring. He referenced that MMA is the most exciting thing on TV and that he appreciates the WWE but that what they were going to give us was professional wrestling for today and that wrestling is about the art of combat but MMA breaks your body down in training. He promised us some crazy things tonight but said he hoped no one dies in doing it.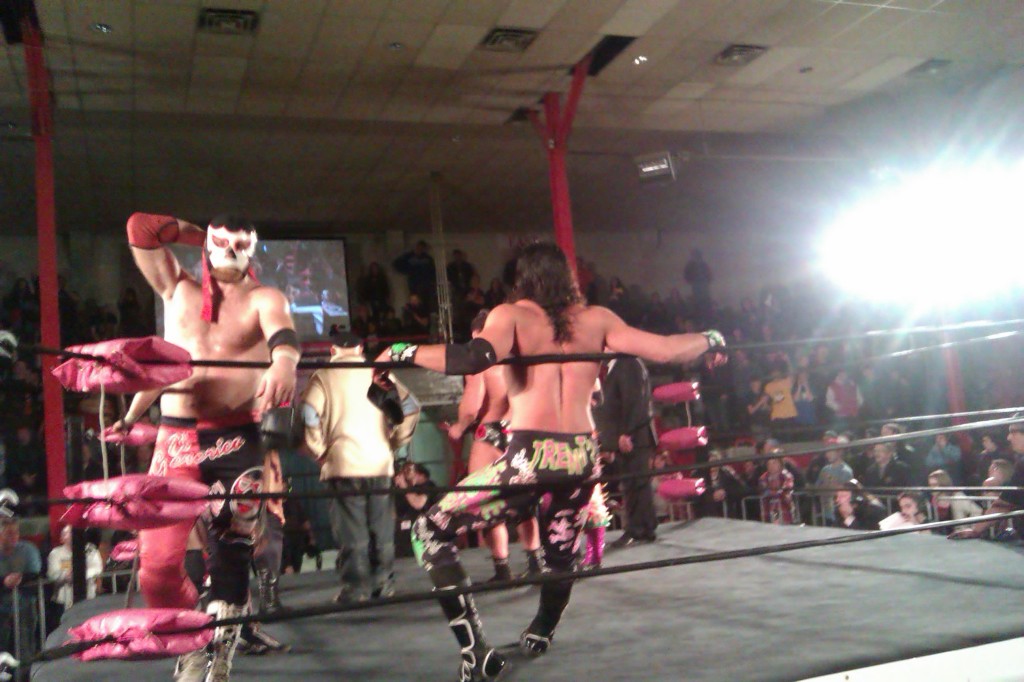 Hart then tried to explain that while Kevin Nash was not here tonight due to a family emergency (Nash said on Twitter he wasn't showing since his wife had the flu) that he was scheduled to be a regular part of the promotion going forward. He also said that in not showing Nash opened the door for someone else to be here and that the best independent wrestler in the world was making his last appearance in Canada tonight before going to the WWE in El Generico, which was quite a surprise since we were told he wasn't going to be on the show after signing his WWE contract a few days ago.
Teddy then brought out the man who he said was both the financial backer, which seemed a shoot and not an angle, and the man running the show tonight, Konnan. They referenced AAA being the # 2 company in the world and that it was the best chance we'd have to a true alternative to the WWE and that they planned to use Hart Legacy Wrestling to help bring and grow that style to a North American audience.
Finally then we got the opening match but it was worth it because it was tremendous. A 4 team elimination match where the top two teams would go to the main event as part of Team Konnan vs. Team Teddy.  I want to apologize as I wasn't familiar with each performer and had difficulty catching the names over the Pavilions' ancient sound system, but the action was too hot and heavy to give a move by move recap of everything going on anyway. A lot of spectacular and innovative offensive moves but it built logically and it didn't seem as though anyone was waiting for someone else to do their spot, the moves went in a progression that built the way it should. The stand outs were Team Future Endeavors which was Trent Baretta & the man who failed to get a contract in the previous night's Impact Gut Check Brian Cage. El Generico came out then to what may have been the loudest pop of the night, significantly larger than Baretta or Cage despite the fact they've been national TV performers. While everyone was great in the match it was Samuray del Sol who really stood out as impressive, but this was great action put on by all and the best match of the night. El Generico &  del Sol as well as Pistol Pete Wilson, who I believe is Tyson Kidd's younger brother, and his partner Cam!kaze were the 2 surviving teams.
After this Teddy came out to make sure we all understood some of the events happening tonight. Yes really. He also at this point said we had some angels up above watching us since everyone was safe after that crazy 1st match like Owen Hart, Chris Benoit and Andre the Giant. Yes, those were the 3 names he used, also really. He said they didn't want to be the biggest wrestling company in the world; they wanted to be the best wrestling company in the world.
The next match was an inter-gender 3 team match. It was won by Jim Neidhart's gut. Seriously, that thing is so big it has a separate gravity pull. Neidhart wrestled in running shoes, a pair of tap out shorts, and a tight red athletic shirt that despite being an extra-large looked more like a belly shirt but honestly, what else could it have become, look at the belly it was trying to cover!  Nothing spectacular here, but the crowd enjoyed it as it went on thanks to it building to The Anvil getting the hot tag and hitting power moves at the end. The finish saw Neidhart lift Nikita Naridian up for the Hart Attack but then drop her just as his partner Kat Von Heez was hitting the move botching the spot. Von Heez looks like a younger, prettier, more athletic ODB. At one time her unique look would have been an advantage in wrestling but now it's not likely. An older and tougher looking Johnny Devine also made his in ring return to Calgary in this match.
Then IWGP Tag Team Champions the Killer Elite Squad, Davey Boy Smith Jr & Lance Archer, made their way to the ring. Archer has much more of a superstar look than when I last saw him and showed great confidence on the mic. A clearly ecstatic Smith said he just finished wrestling the Tokyo dome in front of 40,000 people but nothing felt as good as being home wrestling in the Victoria Pavilion. They were interrupted by Bobby Lashley and Chris Masters. That was pretty unexpected and intriguing, as they announced who would be there but none of the actual matches on the card. KES of course wanted to get them in the ring right there, but while Lashley, playing the role of a guy who just wanted to fight, was ready, Masters was doing all the talking as a heel who talked big but didn't really want to back it up. He said he and Lashley were body guys and couldn't just get in the ring, they needed to pump and oil up first but they'd see KES later tonight.
Then there was a 12 man Royal Rumble style match. Unfortunately this was the low point of the night as, other than Brady Malibu entering to the Baywatch theme, this was pretty boring. Really none of these guys looked good, and despite some reactions for the return of "The Principal" Richard Pound, a mainstay of the last failed Stampede Wrestling return at the beginning of the century and 80's Stampede Wrestling character Jason the Terrible coming to the ring, the crowd was just waiting for the geeks to get out of the ring.
The Battle Royal was really just an angle anyway for the return of The Karachi Vice, the biggest heel group in 80's Stampede, returning with Abu Wizal and Great Gamma as the managers. This incarnation consists of the Battle Royal winner Heavy Metal (no, not the one you know, this is a different guy) and Wavell Starr, a baby face performer also in the last Stampede, and the surprise man joining in Johnny Devine. Devine cut a nice promo on the Harts saying he was trained by them but that they were liars, the Pavilion was a dump, and that he's here to burn their legacy down. The highlight of the segment was when the Great Gamma awarded a super-hot chick to Wavell Starr as a reward for joining the Karachi Vice and told him he could do whatever with her he'd like. Starr took the mic and said, dead serious, "I like her; I think I'll call her… Pam…" Hilarious.
Now Lashley and Masters were ready to take on the Killer elite Squad. This was a mess of a brawl and was thrown out due to a DQ a couple of minutes in when Johnny Devine came out to attack Smith and started a 3 on 2 beat down. Luckily Lance Storm had come down to do color commentary on the IPPV and was there to make the save leading to a 6 man tag.
This was a really fun match. Oddly enough, the retired guy, Lance Storm, worked almost the whole thing as the heels got the heat on him and he played baby face in peril. Storm looked really crisp in his work here, and this was a very fun match. Masters in particular looked like he was having a great time, and took a lot of big bumps for Smith and Archer before he eventually tapped out to the sharpshooter. Afterward Smith led the crowd in a "you still got it" chant for Storm. The only problem with this match was that Lance Storm and Lance Archer were on the same team and with them both having the same name I couldn't tell them apart. Maybe they should change one of their names to Gregory or William.
After a long intermission it was time for the main event, a 10 man tag of Team Teddy with Teddy Hart, Pistol Pete & Cam!kaze along with Flip Kendrick  and the guy Teddy picked as having impressed him the most in Brian Cage. Team Konnan had El Generico & del Sol with Jack Evans, and 2 wild card picks in Trent Baretta and Davey Boy Smith Jr. This match was definitely insane, and I'm not sure how well it will play off on TV as the guys split off and brawled all over the place at one point but I think they only had 2 cameras to tape it, so something like the chair shots to the back exchange between Generico and Cage I'm not sure they even got on video. Unlike the first match, this one did have a lot more of guys obviously getting in positions for spots, but it was still an amazing site. Teddy Hart, in particular, did something crazy, as was to be expected, in a moonsault from the 2nd balcony into a bunch of the guys gathered on the floor. A great way to end the night and Konnan it seemed was legit impressed. El Generico in the end took the pin from Teddy Hart. After Konnan came in the ring and told us that was one of the greatest Lucha matches he'd ever seen. He thanked El Generico who then whispered something in his ear and Konnan told him yes, if they don't know how to use him properly like they don't with Nattie, TJ or didn't with Harry that they'd want him back here. The crowd then broke out with a thunderous Ole chant as they had many times throughout the night.
So the bad… Mike the Shark DeCarlo is a man who worked as a manager in the past was the ring announcer tonight and tried really hard to be Ed Whalen, unsuccessfully. He loves wrestling but was no good I'm afraid. The show's timing was off, going a little more than 4 hours, and needs to be tightened up. Despite all the guys they show cased and all the great action, we didn't get a single one on one match up which seems strange. The "this is awesome" chant from the crowd in the main event was stupid. Not to get off on a rant here but that's such a douche chant, having gone from once being a way to thank the guys for working so hard to now being a way for the crowd to brag to the audience watching that they're cool because they're seeing this live in person and you're not. The Victoria Pavilion, while a tradition in Stampede Wrestling, is fine as a onetime nostalgia thing but in reality a terrible and ancient venue. Calgary is a large modern city with a bunch of great venues better suited for what they're trying to do, and I think a place like the Father David Bauer Arena is much better suited long term because eventually the nostalgia will wear off and you'll be left with an old building uncomfortable to be in.
The good… They mixed in just enough of the old stuff to let long term Calgary wresting fans know they weren't forgetting them but didn't rely on it to carry the show finding the perfect balance. It felt like a show Konnan booked with Ross Hart there to tell him about the history in the city and help him integrate it. The talent at the show was tremendous. Samuray del Sol impressed me so much, you can see the WWE level charisma in El Generico, but a lot of guys such as Masters, Devine, and Cage were also very good. Baretta was also very entertaining, though at times it felt like he was trying to steal the spotlight from the guys in the ring when he wasn't supposed to, but I may have been reading too much into that. Seeing a commitment to bring in AAA guys regularly, as well as guys like John Morrison who's announced for February and Japanese talent like Jushin "Thunder" Liger means the talent should stay at a high level and provide solid in ring action. This does feel like a group that has come in with a plan, and I sense there's a Calgary fan base that exists who's anxious for something like this.
Overall the best way for me to prove how good the show was is by reading that crowd. I wouldn't say it was a hot crowd by any means, they seemed more receptive but skeptical. They were going to make the wrestlers work for their reactions, but if they earned it they were happy to give it to them and often did loudly, which speaks volumes for the quality of the show. A super fun night and I'd definitely recommend the IPPV which should be even better with the benefit of editing, and easily worth the price, especially as I believe it's only $10
Podcast: Download (Duration: 34:31 — 15.8MB) | Embed
Subscribe: Apple Podcasts | Android | RSS