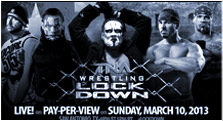 It's time for TNA's second, that's right I said second, Pay Per View of the year. This is the first show in the "new Pay Per View era" for Impact Wrestling as they did not have a February show and will not have another live Pay Per View until Slammaversary in June in Boston. The Aces and Eights saga continues and does not appear to be ending anytime soon since D-Lo Brown was only revealed as the VICE President. Eric Bischoff still needs to be unveiled as the true leader and I can't see that happening at this show. The big news heading into the show is the contract status of Bobby Roode. As of this writing he is not going to be appearing and defending the tag team titles on Lockdown due to his contract apparently running out. Maybe Roode should call Jeff Jarrett to see how to handle this situation!! TNA is also expecting it's largest paid attendance for any show at Lockdown with over 5500 fans in attendance in San Antonio. Here are a look at the matches for the show.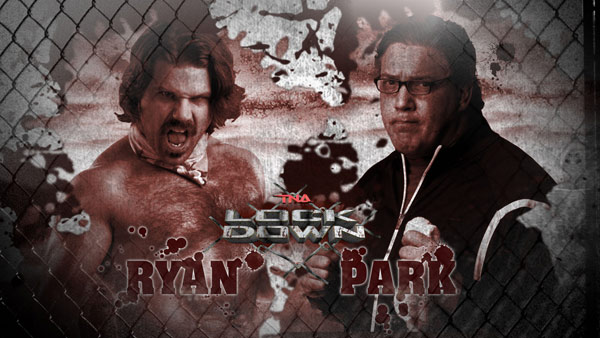 Joey Ryan vs Joseph Park
Joseph Park has been one of my favorite characters in all of wrestling over the past nine months. His shelf life seemed limited when he debuted and I had expected Abyss back by now but this character is really catching on with fans. His ability to show "slight improvement" every time he's in the ring is nothing short of brilliant. Joey Ryan, on the other hand, is someone that I thought I would be more into by now after his debut last summer. Ryan has cooled to the point where he is merely fodder for Joe Park Esq in this match. Joey Ryan has a lot of talent and should be utilized in a revamped X Division but since that hasn't happened, I go with a freshly snapped Joseph Park in this match.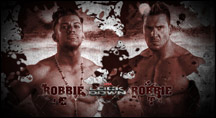 Robbie E vs Robbie T
I really want to hate Robbie E. The Jersey Shore went off the air with a wimper last year and this character was a lot like the Fandango of TNA. That said, the wrestler himself entertains me. Hopefully a reboot for Rob Eckos is in the works and he can come back, much like Ryan, in a restarted X Division. Robbie T is what is wrong with wrestling, in my opinion. He's a jacked up freak that can't entertain me in the ring with his matches and can't cut a promo that makes me want to see him wrestle. This match at least has a back story as the two former friends have now turned enemies thanks to Robbie E's treatment of Robbie T. I'm hopeful that the smaller Robbie gets the win via cheating and both guys can move on…Robbie E to a repackage and Robbie T to OVW.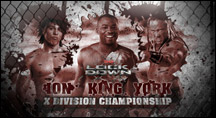 Three Way X Division Championship: Zema Ion vs. Kenny King vs. Christian York
Kenny King just beat Rob Van Dam on Impact to become the new X Division champion. With that win comes renewed hope that the X Division will be allowed to once again give wrestling fans the matches that steal the show. King is a great talent and a good choice to have beaten Rob to become champion and Ion can go in the ring as well. I have been very impressed with how TNA has used Christian York since his Gutcheck return to the company. In a business that we all get jaded on thanks to WWE's start-stop booking of guys, it's nice to see York not get buried this early in his run. He's not getting a monster push but he's not getting squashed to "pay his dues" either which is refreshing. Hopefully King retains the title in a match that picks the crowd up when they need it the most.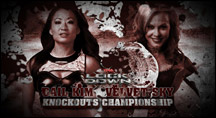 Knockouts Championship: Gail Kim vs. Velvet Sky
Velvet's return to TNA has been met with Knockouts Gold but her in ring work is still not the greatest. Gail Kim is a tremendous worker and I am hoping that she can turn this into a decent match. Gail is my favorite female act in the company right now…..and actually in all of wrestling. The storyline is that Kim and TNA Knockouts referee Taryn Terrell are at odds after some blown calls by the ref to Kim. I could go either way on this match. If it was totally up to me, Gail Kim would be the champion but I Velvet has just returned and I don't know that you take the belt from her already. Take your pick on this one.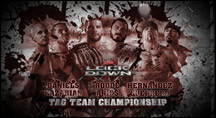 Tag Team Championship: Daniels & Kazarian vs. Bobby Roode & Austin Aries vs. Hernandez & Chavo Guerrero
As I noted before, the story of this match is not what's happened on television but the behind the scenes contract issue with Bobby Roode. TNA is in a great position here with having Kazarian and Daniels in the match and more than capable to become tag team champions. I would have had them win the titles regardless of Roode's status and so I definitely don't change that now. It's too bad since Roode and Aries were a great duo and on par with Daniels and Kazarian. Chavo and Hernandez are a serviceable act but nowhere near the level that I even consider putting the tag team titles back on them. Another question surrounding this match due to the absence of Roode is who TNA uses as his replacement on the team. I suppose they could have Aries just go solo with the story that he was out numbered and that's why he lost the belts but I would put Matt Morgan in the place of Roode to get him on the show. It won't make the match better in terms of in ring quality but it is the only name that I could think of that isn't being used elsewhere on the card. AJ Styles would have been nice but that certainly doesn't fit with his current storyline. I am looking forward to a great run by Bad Influence for a long, long time!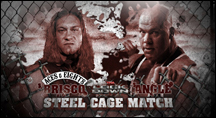 STEEL CAGE MATCH: Wes Brisco vs. Kurt Angle
This match is one that is a credit to TNA….it makes sense. The build was obvious but that can be a good thing and I think it was in this case. Wes Brisco and Garrett Bischoff fought beside Kurt Angle for months before finally turning on him in a cage match in January in England. Of course Kurt feels that this is the ultimate act of betrayal and BOOM we have a match. Combine that with the fact that this is the Lockdown Pay Per View and Wes turned on Kurt in a cage match against Mr. Anderson and this match makes perfect sense to happen. I had assumed originally that Kurt wins to get his revenge but I could also see Aces and Eights getting involved to cost Angle the match and give the victory to Brisco. This would allow the feud to continue and it appears that Aces and Eights is still in TNA's long term plans. For that reason I go with Wes Brisco in this one.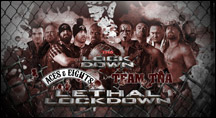 LETHAL LOCKDOWN MATCH: Aces & 8s vs. Team TNA
Aces and Eights are made up of Devon, Mr. Anderson, D.O.C, Garett Bischoff and Knox while Team TNA consists of Sting, Magnus, Samoa Joe, James Storm and Eric Young, yes Eric Young. The go home show did a good job of getting over the disdain these two sides have for each other, in my opinion. Even Eric Young cut a serious promo in order to prove that he belongs. Sure it didn't work for me since he has been a comedy character for 90% of his run (outside of that horrible "World Elite" angle) but they at least tried. Every member of team TNA has had an issue with Aces and Eights so I can handle the booking of the match. The heels won the entry advantage on Impact thanks to a victory by Mr. Anderson which is the only way to have this match work (hear that Russo you moron?). The Wargames style coupled with the fact that these wrestlers should be hungry enough to pull out all the stops in order to make the office sit up and take notice is a recipe for a successful match. I have high hopes for this match for that very reason. Sting is not known for putting anyone over and the fact that he lost to Devon on the go home Impact makes me think that Team TNA is getting the duke in this one.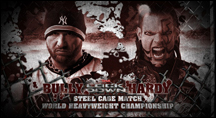 TNA Championship Steel Cage Match: Bully Ray vs. Jeff Hardy
I am looking for a new champion coming out of this match and Bully Ray absolutely deserves a run with the belt. He has been a stellar character for a long time and the pairing with Brooke Hogan will have him in the "good graces" of the bookers. Jeff Hardy was giving a slight bump to the monthly Pay Per Views but, since those don't exist anymore, a change can be made. Jeff has been decent as champion but I haven't really been overly impressed with him in the same way that I have with Bully. I see a lot more potential stories with Bully Ray as champion than I do with Jeff Hardy. Hardy just resigned with the company for two more years so he will have his shot again. It's Bully Ray's time to shine and I can't wait to come along for the ride.
Agree? Disagree? Did I miss something? I'd love to hear from you at addie@wetalkwrestling.com