It's that time of year again! The road to Wrestlemania begins officially with the Royal Rumble. This year, as it has been in the past, the undercard is what is driving the show for me. The Cena vs Orton title match is a who's who of who gives a shit and the Rumble match itself, while probably entertaining, seems like a one man show to win. But, we'll get there! For now, here's the preview: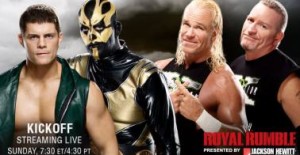 Kick off WWE Tag Team Title Match: The Rhodes Brothers vs The New Age Outlaws
I find it funny that they are still the "new" Age Outlaws after 15 years since being on top. This should be a decent tag match built around continued dominance of the Rhodes boys in the tag team division.  It sounds like the original plan of Cody vs Goldust at Mania is off the books and for good reason. The Rhodes Boys team is a mid card highlight for WWE right now and the New Age Outlaws benefit nothing from holding the titles. Rhodes Brothers is my pick in this one.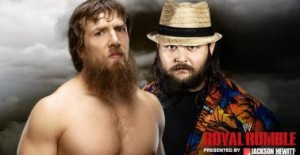 Daniel Bryan vs Bray Wyatt
This storyline has been a highlight for me on WWE television. Bryan is the fans' choice for the face of the company, no doubt, but does that translate to the mainstream? Only time will tell but Bryan is certainly WWE's hottest star right now to the fans that are watching.  On the other side of the ring, however, you have the WWE's most interesting character in Bray Wyatt. Long time listeners of We Talk Wrestling will know that I was on the Bray bandwagon when the character debuted in FCW with Eli Cottonwood as his "family". Wyatt has the best promo in the business right now and is slated to go against John Cena in some form at Wrestlemania at the time that I write this preview. What I like about this match is that I can see it go either way.  Bryan from a momentum perspective should go over but since Wyatt is facing Cena I can see him winning as well.  Since I make my picks on these previews, I'm going to say Bray Wyatt wins.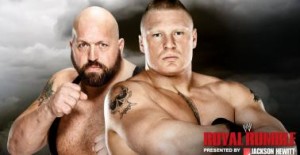 Big Show vs Brock Lesnar
This match is to get Lesnar ready for Undertaker at Wrestlemania and Big Show is beyond wins and losses mattering for him so Lesnar wins this match hands down. It shouldn't go more than 10 minutes and should end with a big F5 on Show to display Lesnar's dominance. Should be decent if it doesn't go long.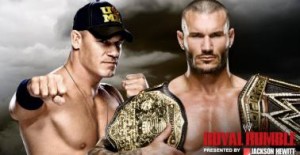 WWE World Heavyweight Championship Match: Randy Orton vs John Cena
As I said earlier in this blog, I care nothing for this match nor the outcome. I keep typing Cena bs Orton and that can't be a coincidence.  The Royal Rumble will be an almost three hour event and I will need to pee at some point so this match will serve that purpose. I don't give a shit about Orton vs Cena, I will never give a shit about Orton vs Cena and the fact that this is a "wrestling" match for a stipulation means that I…..don't give a shit. Wrestlemania is set for Cena vs Bray so Orton will win this match. I'll get to his opponent next but Orton as champion does nothing for me. The flip side is that Cena as champion does nothing for me as well so this match is a pick 'em of who cares. I'm hoping it's short but I'm not holding my breath.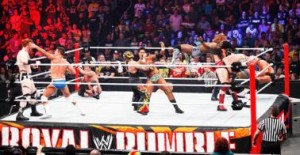 The Royal Rumble Match
This is generally my favorite match of the year but this year there are minimal possibilities for the winner. The favorite is Batista and I expect him to win. CM Punk is the number one entrant and should be the iron man of the match leading to Punk vs HHH at Wrestlemania. Daniel Bryan is not announced for the match but could pull double duty and has an outside chance of winning. Roman Reigns should get the Diesel/Kane spot this year and throw out the most men this year. Alberto Del Rio should have a good showing as well leading to an Elimination Chamber match with Batista. I also look forward to a wacky spot by Kofi Kingston as well as some surprised entrants, specifically my fingers are crossed for Jake "The Snake" Roberts.
Well there you have it. My official predictions and look at the event. Agree or Disagree? I'd love to hear your thoughts! Drop me a line at addie@wetalkwrestling.com and let me know what you think!!
Subscribe on iTunes to We Talk Wrestling HERE