It started off as an interesting concept: Have one on-air person in charge of RAW and another in charge of Smackdown. They can pit each show against each other and give the "competition" to mirror WWF vs WCW. Granted, it was never going to be the same as Vince owned it all but it was a good storyline for the summer of 2002. That's right 2002. We are coming up of 10 years of General Managers and it's time to change things up.
It wasn't all bad. The initial reveal on July 15, 2002 started off with a bang:
That was the "Holy Shit" moment that was needed to kick off a change in the authority figure role, as Vince himself was coming off of 4 straight years of Mr. McMahon. Then Stephanie was added as Smackdown General Manager and there were angles all summer with talent, such as Brock Lesnar, signing exclusively with one show and free agents, such as Triple H (shocking I know), being courted to sign exclusively to RAW or Smackdown. The angle worked well, I thought, and it helped to solidify and even progress the brand extension which started a year earlier.
The Fall of 2003 had a storyline that matched General Manager Stephanie against her father which culminated in an I quit match where if Stephanie lost she would lose her GM position. Stephanie lost and this lead to Pual Heyman being made her replacement.  This was significant to me as here you had the former owner of ECW and the former President of WCW working for Vince McMahon and the WWE. Also, the "real" animosity that Paul Heyman had for Eric Bischoff and vice versa was extremely (no pun intended) evident whenever the two men would be on screen together.
This all seemed very simple.  Keep one person in charge of RAW and keep another person in charge of Smackdown. But this is Vince McMahon and WWE, and they decided to only follow the final S of the KISS Philosophy. What occurred over the next few years on RAW as a vast array of Co-General Managers with Bischoff, such as Mick Foley and "Sheriff" Steve Austin, and assistants, such as Johnny Nitro, "Cheif" Sean Morley, and Johnathan Coachman. Then, in late 2005, Bischoff was dropped into the back of a dumptruck by Vince and a new General Manager was needed.
After Bischoff was dumped (pun intended), RAW had a revolving door of General Managers. Vince took the reigns for a while but then what followed read like a who's who of midcardom.  Johnathan Coachman, William Regal, and Mike Adamle….yes Mike Adamle, all held the role of General Manager.  By the latter part of the 2000's the General Manager of RAW was changing so fast it was hard to keep up. Hell, Donald Trump "owned" RAW for a week. Vickie Guerrero and Bret Hart had a cup of coffee with the position and even Stephanie McMahon was back in charge for a while.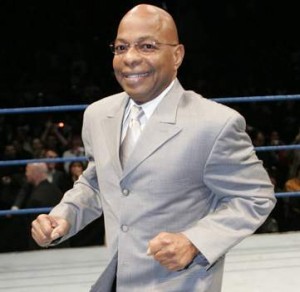 Meanwhile on Smackdown, there was a different story. Kurt Angle filled in for the summer of 2004 while nursing an injury and after that Smackdown got something RAW at the time did not have, CONSISTENCY. Teddy Long took over as Smackdown General Manager in 2004 and held that position for three years. Following a storyline heart attack, Vickie Guerrero took over a GM and was there for two years and, finally, Teddy Long regained the role and would be General Manager for three more years.
WWE tried to change things up on RAW with the celebrity guest hosts. While some hosts were better than others, depending on their level of fandom, the segments and the concept largely took away from WWE storylines and used up valuable pay per view promotion time for the CHANCE to be shown on Talk Soup. Luckily that concept fizzled after a year but just when I thought it couldn't get any stupider I got this: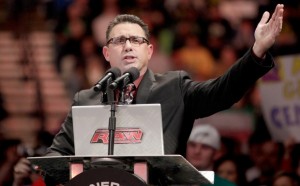 The Anonymous RAW General Manager started off with interest. Fans were asking who was the person behind the computer (the one sending the emails, not Michael Cole) and were actually interested to find out. The computer first showed up in June of 2010 and many thought, logically (I know, I know) that a reveal might come at Summerslam 2010. I did not. In fact the reveal never came at all and the Anonymous General Manager started show up less frequently and then ended altogether in the summer of 2011.
As you can see, WWE has made a big mess of it's authority figures by having inconsistency and, recently on RAW, just plain stupidity with the General Manager role. WWE has taken one step in the right direction, I feel, by having just one person in charge of both shows. The problem just isn't the person they picked, John Laurinaitis (notice I said JUST) or in the fact that he still has Eve and David Otunga as his entourage, but it's more the way he is portayed. I can trace back all the way to 1996 when Eric Bischoff joined the nWo and started to make matches or when Mr. MaMahon would set things up on RAW in the Attitude Era, all the way to each and every WWE General Manager to see the same formula.  The authority figure is on every show. The authority figure has to make every match.  This portrayal is, to me, the biggest thing that has run it's course. We need to go back to a simpiler formula.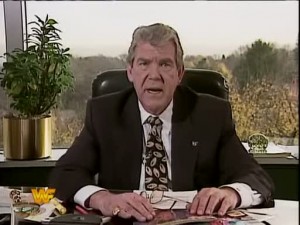 Back before the nWo took off, before Steve Austin drank a beer, and before we smelled what the Rock was cookin', Jack Tunney would sit behind a desk and make rulings.  The would only do this when things were, get this, IMPORTANT. Fans did not see or hear from the President of the WWF unless there was a major pressing issue.  He rarely appeared in person. He was in Piper's Pit to further the Hogan/Andre Wrestlemania III match, at Wrestlemania IV to kick off the title tournament, and at the Royal Rumble to crown a new World Wrestling Federation Champion.  It was these big time situations that called for an in-person appearance. Otherwise it was behind the desk for an Update segment, brought to you by the pages of the World Wrestling Federation Magazine.
WWE needs to let their angles speak for themselves. The authority figure should be on Television once every three to four weeks and in the arena five or six times a year in order to create the importance of the moments. They should only be ruling on major issues. It doesn't have to be the main event angle. If there is a heinous act perpetrated by a midcarder to another midcarder the authority figure should be involved via the Titantron.
So who do I have in this role? This person needs to have credibility. They need to be respected as they will be making the "big" decisions storylinewise. Clearly John Laurinaitiis is not cut out for public speaking nor does he have the credibility with fans to make this change in the role work. My choice stood out to me immediately. He was the first name that came to my mind. If WWE is looking to have someone that can be beleivable making tough desicions and have the "good will" with the fans to kick off this new/old era in authority figures, then ladies and gentlemen I give to you the next President of World Wrestling Entertainment: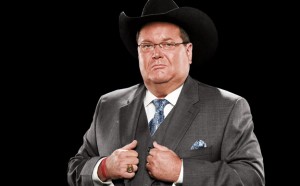 JIM ROSS!!
Agree or Disagree? I'd love to hear your picks! Shoot me an email at addie@wetalkwrestling.com and let me know what you think!