by Stephen Ajamie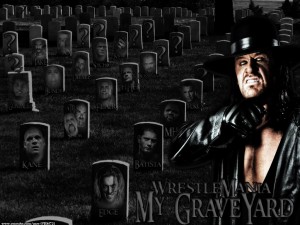 Forget about Money in the Bank. Forget about AJ and who she ends up with. Forget about RAW 1000. Forget about Kharma and her status with the company. What we really care about is who the Undertaker faces at Wrestlemania and whether the streak should end.
I've been discussing those points on a wrestling facebook group, and felt enough ideas brewing that I had to put them on paper or out in a blog. There's a few different ways to look at this streak phenom and how it should go.
For me, it's crazy to think that there's a DVD out celebrating the Streak, but the Undertaker is still good to go for another Wrestlemania. Does that mean the streak ends? If I was writing, yes, and it would end to a cocky heel who says they're finally putting the big dog out of his yard.