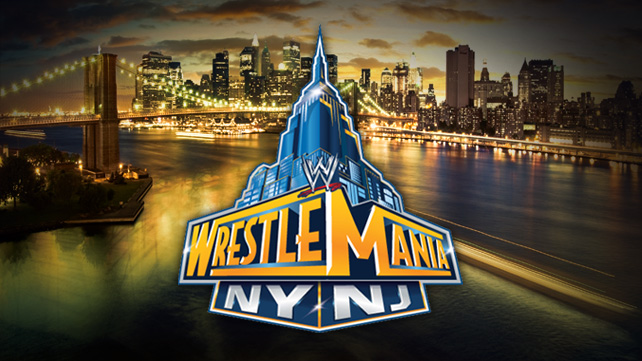 It`s the showcase of the immortals. It`s the granddaddy of them all. It`s the Superbowl, the World Series, and the Stanley Cup all rolled into one. It`s Wrestlemania and it`s almost here! This year`s Wrestlemania build has been one of the more unique in recent years as WWE seems content to let the main matches alone sell the show. Time will tell if this is a sound strategy or not but one thing is for sure, Wrestlemania 29 is a unique show, both positively and negatively. Here`s a look at the card.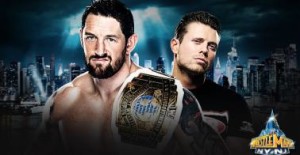 Intercontinental Championship Match: Wade Barrett vs The Miz
This is another of the undercard matches that is really just happening on Wrestlemania with minimal build and will be the preshow match. Miz spent the first quarter of 2013 losing to The United States Champion Antonio Cesaro which logically entitles him to an Intercontinental title match at Wrestlemania. Miz and Chris Jericho have been in matches with Wade Barrett in March leading to Wrestlemania so the match itself didn't entirely come out of the blue but it's about as close as you can get. I think I'm mostly disappointed in this match at Mania because I am a Wade Barrett fan and remember the days of Savage and Steamboat for the IC title at Wrestlemania III. Miz won a non title match against Wade on RAW and was granted the shot but I hope that Barrett goes over in this match. Given the number of babyfaces that should be winning on this card I would think that the heel winning here is not out of the realm of possibility. Barrett retaining is my pick in this one.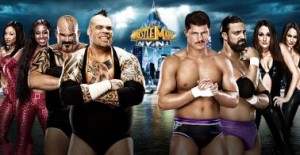 Rhodes Scholars and The Bella Twins vs Tons of Funk and The Funkadactyls
This match reeks of getting as many people on Wrestlemania as possible. As my co-host Mo pointed out, who would have thought in January that Tensai would be on the Mania card? Well, here he is on the newly named Tons of Funk. This match is more about the girls being mad at each other and cat fighting than the Rhodes Scholars having an issue with Tons of Funk. No question in my mind that Sandow and Rhodes deserve a Wrestlemania payday so I am fine with this match. The temporary break up of the Scholars seems to have been realized as a mistake and I do hope that these two will continue as a team for the foreseeable future. With that said, I see the babyfaces going over in this really nothing match in order to be able to dance and try to excite the New Jersey crowd.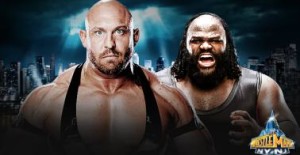 Mark Henry vs Ryback
The battle of the behemoths. This match will not be a technical classic but it does have my interest for a couple of reasons. The first is how Ryback will be taken by the New York-New Jersey crowd. I picture Mark Henry the crowd favorite in this one. The build for this match started off simple. The two men first passed each other on the ramp and had a stare down. The following week the two tried to impress one another by each tossing around poor Drew MacIntyre. I say started off simple but WWE added a layer to the story when Ryback was added to the six man match against The Shield at Mania. Shortly after this was done, Henry and Ryback had a brief "match" (a mistake in my opinion) which ended in a Shield attack and a Mark Henry beat down on Ryback where he hit him with three world`s strongest slams. The back and forth competition of beating two and three guys as well as the bench press challenge have been good ways to build on this undercard feud. This one will be brute strength all the way and I will enjoy it for what it is. I don't think that there is any question that Ryback will go over in this one.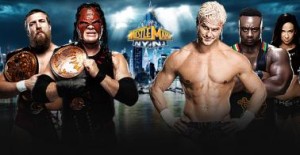 WWE Tag Team Champions Team Hell No vs. Dolph Ziggler & Big E Langston
Dolph Ziggler looked like he was going to have a really promising Wrestlemania when he beat John Cena in December on the TLC Pay Per View. The times they have a-changed. Now Ziggler and his bodygaurd Big E are going for the tag team titles at the show. On We Talk Wrestling I compared this match to Wrestlemania 13's Owen and Davey Boy versus Mankind and Vader as it's two makeshift tag teams with a logical connection facing for the tag titles. Ziggler beat both Kane and Bryan in singels matches and then challenged the champions to the match which they accepted. By all logic it makes sense but the problem is that too many of this year's Wrestlemania undercard matches have been made the same way. While this match may be decent and Big E gets to debut at Mania, I am disappointed in Ziggler's position on the card. Sure he may cash in the Money In The Bank later in the night but until that happens I will consider Wrestlemania 29 a bust for Dolph Ziggler. The WWE writers have been hesitant to pull the trigger on this great talent and I'm not really sure why. They have nothing outside of the "same old same old" John Cena and the now needing time off CM Punk to carry the promotion once all of the returning stars are gone. I can see this match going either way but my personal choice would be that Hell No retain in order to lose the belts to the Rhodes Scholars in May and that Ziggler cashes in and wins the title later on in the night.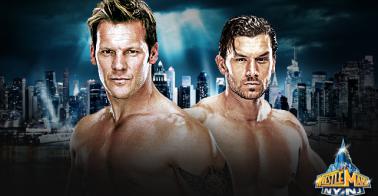 Chris Jericho vs Fandango
Chris Jericho was on Dancing With The Stars and Fandango is a ballroom dancer wrestler. Sounds simple right? Well apparently that is too simple for the WWE writers as it hadn't been mentioned on WWE television until some throwaway commentary on the final RAW. Instead Jericho made fun of Fandango's name and Fandango then cost Jericho a couple of matches and attacked him after a win against Dolph Ziggler. So Jericho went in and asked Vickie Guerrero for the match at Wrestlemania because apparently the one thing that Chris Jericho hasn't accomplished in WWE is having a crappy Wrestlemania match that no one cares about. Now his career is complete. I presume that due to Jericho's affinity for putting guys over coupled with the fact that this is Fandango's wrestling debut, the dumbest character since Lord Tensai will be going over in this match. My only hope is that somehow Mr Bob Backland becomes the special referee for this match so that I will be entertained.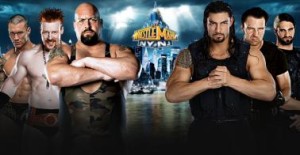 Randy Orton, Sheamus & Big Show vs. The Shield
This has been my favorite build to all of the matches at Wrestlemania. The story of Orton and Sheamus picking Ryback only for him to be taken out of the match to face Henry makes sense. It is also a slow turn of The Big Show which I also like since he isn't just "good now". The Shield have been dominant since entering WWE at Survivor Series and I give the company a ton of credit for maintaining that streak. The Shield have also been used sparingly in matches which I love as it means that much more that the only way to see The Shield, is to pay for The Shield. It's been rumored for months now that Randy Orton is turning heel. In fact, the originally planned match was heel Orton vs Sheamus one on one so I expect Randy to turn on Sheamus here and allow The Shield to win. I would even align Orton with Big Show as he hasn't done the full fledged babyface turn as I mentioned. The Shield pick up the victory in this one to a surprisingly large ovation I predict.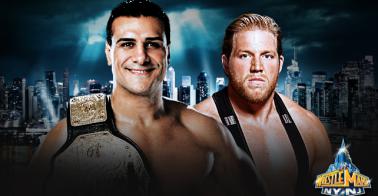 World Heavyweight Championship: Alberto Del Rio vs. Jack Swagger
This is another match that I thought I would be more into as we draw closer to Wrestlemania. Jack Swagger returned just before the Elimination Chamber and a week later brought Zeb Coulter with him to speak about how only white English speaking people belong in America. This whole angle is designed to get Alberto Del Rio over but it has been the decimation of Ricardo Rodriguez that has gotten the most heat in the past month. While the political crap is getting boring to me, I do like Swagger's new look. This match I would like to see Alberto retain, barely, and have Dolph Ziggler cash in the Money In The Bank to leave Wrestlemania with the World Heavyweight title.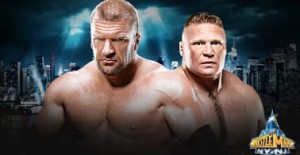 Triple H vs. Brock Lesnar
This is a No Holds Barred Match and if Lesnar wins, Triple H must retire and now Shawn Michaels will be in Triple H's corner. Hunter just came back after teasing retirement after Summerslam and now his basically already over career is on the line. Big deal. Paul Heyman has been great leading to this match and Hunter has been, well, Hunter. There were a ton of stories that could have been told to garner interest for this match and WWE did none of them. There were hints of good moves such as Brock destroying the New Age Outlaws but that was a one and done and never spoken of after it happened.  Captain Insecurity has put Brock over stronger than anyone in his career who isn't named Shawn Michaels on the mic which sadly means that he will probably be winning this match. This is the Wrestlemania match that I knew was coming and that I didn't want to see. WWE has done nothing to change my mind about that in the last ten weeks. Hunter gets his win back, he's a super tough guy. *YAWN*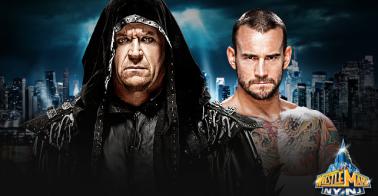 The Undertaker vs. CM Punk
I wanted to see this match when it began to be rumored in December. It is now April and I no longer want to see this match. I rag on the WWE writing team a lot but I must admit that they are talented. It takes a lot of talent to take The Undertaker and CM Punk and make me care nothing for their match. This should have been Punk challenging Taker to break the streak but instead it was Vicki Guererro making a four way match that Punk won to set up Taker's challenger. Lame. The only thing that I like in the whole build up to this match is Punk saying that he is content with winning and breaking the streak via countout of disqualification.  I am still a fan of our friend Stephen Ajamie's (of www.alwaysmillertime.com fame) idea of "Paul Bearer" as a light in the urn, blinding CM Punk leading to the Tombstone victory for Undertaker. CM Punk is streak breaking worthy but this storyline is not. Undertaker goes to 21-0 in this one.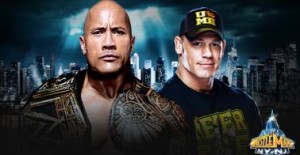 WWE Championship: The Rock vs. John Cena
Twice in a Lifetime. This match was set up on RAW 1000 in July when The Rock announced that he was getting the WWE title shot at the Royal Rumble. From there it was a simple plan: keep the title on CM Punk, Rock beats Punk, Cena wins Rumble, Cena beats Rock. I still expect this to happen. In my mind the problem with this match is the problem with wrestling in general today and that is the lack of ability to make a match interesting. I don't mean that crazy things like exploding cars need to happen but something more that countless promos would be appreciated. Rock has beaten Cena and KNOWS he can do it again while Cena wants redemption. Yes I got that on the first interview and then it was repeated over and over. Even the great video package was shown two weeks in a row. I understand that Rock is a busy, busy man but this is 2013 and cameras can be everywhere. I didn't even need to see him on every week but when I did see him it was nothing new. I'm sure the match will be good and that the New Jersey crowd's reaction to John Cena will make the match but I am much like the Washington crowd on RAW: Bored. Cena wins and we move on with our lives.
Well there is Wrestlemania 29. I'm sure on paper, years later this will come off as a great show but sitting here in 2013 I am less than thrilled. I will watch Wrestlemania because I am a wrestling fan and it's Wrestlemania but I have heard no one at my office or around town talking about this show. WWE is hoping for 1.3 million buys. We shall see on that!
Agree? Disagree? Did I miss something? I'd love to hear from you at addie@wetalkwrestling.com