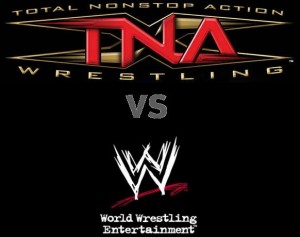 For me it's the biggest news story in wrestling for 2012: The rise of Total NonStop Action Wrestling. Impact every Thursday continually entertains me. RAW, on the other hand, does not and hasn't since Brock Lesnar lost to John Cena at the Extreme Rules pay per view. The steady rise of Thursday Impact has coincided precisely with the steady decline of Monday Night RAW, in my opinion. So what I thought I would do in this column is look at some of the reasons that I think TNA is currently better than WWE. Let's see if you agree!
The Show's Pacing
No, I'm not talking about the Big Show. Monday Night RAW has continued on it's rapid pace since Wrestlemania. Looking back at the Pay Per View main events, John Cena has faced Brock Lesnar three weeks after his return, John Laurinaitis, The Big Show, and won Money In The Bank. Cena has also since cashed it in and lost that opportunity on RAW 1000 by winning via disqualification. Also in that time CM Punk and Daniel Bryan have had three pay per view matches, one that involved Kane. Wrestlemania was in April and it is now August so all of that happened within four months. Both of the above are examples of RAW's pacing problem but in different ways. The Cena programs show just how quickly they have burned through stories since Wrestlemania and the Punk/Bryan issue as shown how they are able to overplay a great match to not meaning what it could or as much as it did the first time.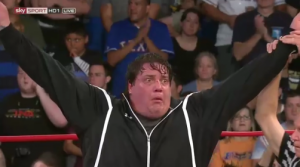 Impact, on the other hand, is very much deliberate in it's pacing, and this allows me to invest more in the stories told by the company. For example, I don't see Joseph Park on every Impact but when I do I know that there will be a further advancing of his angle with Bully Ray. The same can be said for the Claire Lynch angle, as there have been weeks where just a video package has been aired to recap the angle. The other example is with an angle that I will speak more on in a bit, Aces and Eights. They debuted by attacking Sting on June 14th's edition of Impact and 5 weeks later we still don't know anything more about the group in the storylines. The group has also been used sparadically, outside of the one show and the idea there was that no one was in charge of Impact to stop them. 
The Production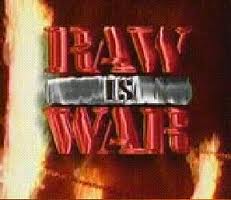 I remember in 1997 when Monday Night RAW became RAW is WAR and The Warzone. They changed the look and feel of the show almost immediately and it gave the WWF something different from Nitro, or any other wrestling show. In 2012, RAW is largely still the same in terms of its presentation. The music has changed over time, as has the Titantron, but the basic way the show is produced hasn't evolved. There are the same backstage skit formats as 15 years ago, many shows open with 20 minute promos, and the announce team has the same style. With Jim Ross gone the commentary is absolutely weaker but Jerry "The King" Lawler, and his act, is really getting tiresome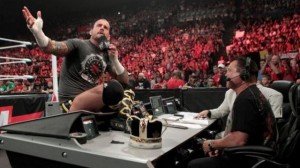 for me. That was really hammered home as I watched CM Punk sit in front of Lawler at the commentary desk and berate him for his innacurate comments on Punk turning on the Universe. King's jokes are the same and he really adds nothing to the show outside of being a legend, but legends can also overstay their welcomes. The inconsistency in Michael Cole from heel to face to heel to face every week is also a huge problem for the show. Either have Cole be a heel and transition into a manager or have him as a straight play by play man and find him a new color commentator to work with.
TNA Impact has given a new feel to wrestling. It started a few years ago with the TNA Reaction show and the elements that made the backstage interviews fresh and unique were incorporated into Impact with excellent results. Wrestling is wrestling, and the action in the ring can only be shot so many different ways but Impact has used backstage skits and interviews following the wrestlers around to their
advantage. The Gutcheck challenge breakdowns by Taz, Bruce Pritchard, and Al Snow are another example of TNA brining a different feel to a wrestling show. This has been expanded to the title match elimination segments done by Hulk, Aries, and Brooke over the past few months. Taz is one of my favorite commentators and TNA also has Jeremy Borash, who did an excellent job on Destination X, in my opinion. Mike Tenay has had his ups and downs over the years but I think the newly focused TNA product is something that he can absolutely call, and I get the sense that he is enjoying his job for the first time in a long time.
 The Angles
I can honestly say that I care more about the issues in TNA right now than WWE. Part of that is the fact that they are in the midst of the second Bound For Glory Series and that gives most of the matches on Television meaning as they are usually tied to the tournament. Aside from that there are four separate angles/feuds that I have my interest in TNA. Bully Ray vs Joseph Park/Abyss is a slow build and each man is doing a great job in their roles. The Claire Lynch angle is one that isn't beating me over the head, like WWE has done with their AJ. Granted it is very sports entertainment in its presentation but I don't mind that in one part of my wrestling. In every segment, no, but TNA has relagated this to one segment on the shows that it appears and, as I have mentioned, it isn't on every show. Plus the payoff involves a match with AJ Styles vs Daniels or Kazarian which will not suck.
That brings me to Aces and Eights. This is the main wrestling angle of 2012, in my opinion, and it's only been going for eight weeks. In those eight weeks the group has debuted, been briefly mentioned, confronted Hogan backstage, beatdown Sting and Hogan, beatdown various people, and had a brawl with the four guys they beatdown the week previously. Robert Roode has added an interesting twist in claiming that James Storm is the leader. This appears to be added feul to the fire of the former Beer Money feud but the stable is playing into it by not attacking James Storm. I hope that TNA can keep this angle going for Bound For Glory in October where the members can be revealed. I wouldn't even be opposed to a slow reveal where one member would be unmasked each week starting at a pay per view and the leader, Jeff Jarrett, would be revealed at Bound For Glory.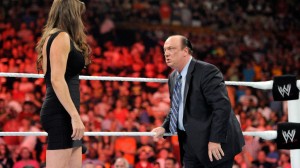 The summer of 2012 hasn't really given me anything to sink my teeth into in WWE. I am looking forward to Lesnar vs HHH at Summerslam but that is more from the interest I have in Lesnar and Paul Heyman's smarmy character than anything WWE has done with the angle. Certainly the therapy session that Stephanie had on RAW 1000 gave me zero interest in seeing that match. Shemus and Alberto Del Rio is the match that will never die and I have never personally been a fan of Alberto so that match really does nothing for me. Shemus retains or ADR is champion again, either way I don't care. As I mentioned earlier, John Cena has not had a sustained post Wrestlemania issue other than with the Big Show and I watched that for the United States title at Wrestlemania 20 in 2004. I should have loved CM Punk against Daniel Bryan, and the matches were great, but WWE inserted AJ Lee into the storyline and made her the focus which I despised. It wasn't SO much AJ's involvement as it was HOW much AJ was involved. She does nothing for me in long segments and now, as the General Manager, I anticipate that I will grow more annoyed with AJ as time goes on.
So that's my analysis of the Summer in a nutshell. WWE really needs to shake things up, in my opinion, in order to get a fresh new feel to the programs. They have a lot of good young talent on the roster, like The Prime Time Players and Damien Sandow, and heels ready to come up to the main events like Dolph Ziggler and Cody Rhodes. While the promise is there, I just don't have the confidence that the writing team will put them in roles that hold my interest. Since Dixie Carter finally answered all of the thousands of fans' pleas and fired Vince Russo TNA Impact has done a complete 180 and is putting on great television. I'm not sure who I need to thank, but I Loooooove Him!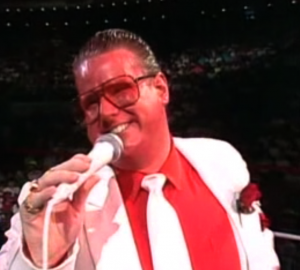 Agree? Disagree? Did I miss something? I'd love to hear from you at addie@wetalkwrestling.com