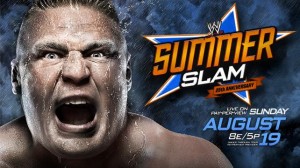 It's that time of year again. It's time for Jeremy Piven's favorite WWE Pay Per View, Summerfest….er Slam. This year is the 25th anniversary of Summerslam and I had high hopes for WWE's third biggest event of the year, largely because of Brock Lesnar. Even after his return at Wrestlemania I didn't know who he was facing but I knew he would be on this show and that I would probably be interested. I'll start from the bottom of the card and work to the main event and give my thoughts on the build and my predictions for the matches. So without further ado, hey yo and here we go!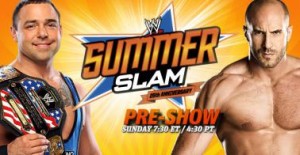 Preshow Youtube Match: Santino Marella vs Antonio Cesaro For the United States Title
I had predicted this match as the preshow match a few weeks ago on our Podcast. This seems very logical for Antonio to win the United States title and be the European that speaks five languages with the US belt. Santino has done virtually nothing as Champion and does not need the belt as part of his character so I do see Antonio winning the match. It's a good idea as well to have a title change on the YouTube show in order to get over the importance of the show….assuming that title changes mean anything in 2012. Antonio has just had a match with Christian where he attacked him after Captain Charisma won the match so a ready made first title challenger is there for Antonio.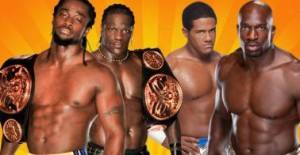 Tag Team Title Match: Kofi Kingston and R-Truth vs Prime Time Players
This match has been a hit and miss build. The positive is that Darren Young and Titus O'Neal have beaten R-Truth and Kofi in singles matches in the past month. The negative is that The Prime Time Players have already lost to the tag champs at least twice on television and have also lost to Primo and Epico on more than one occasion recently. In fact, Titus and Darren won the right to be number one contenders (again) by disqualification against Primo and Epico. Not exactly a dominant win to propel them into this match. The Prime Time Players also attacked Truth (and Jimmy) on the go-home edition of RAW as Kofi was overseas to build heat for the match. The biggest story surrounding these men was the release of Abraham Washington leaving The PTP to fend for themselves. I enjoyed Young and Titus as an act prior to hooking up with AW so I am not thinking that Washington's departure will have any effect on the team in the future. I would like to see a title change in this match but I don't think WWE feels the same way so I will predict that Kofi and Truth retain the titles. The biggest question to me in this match is: Do Primo and Epico get involved?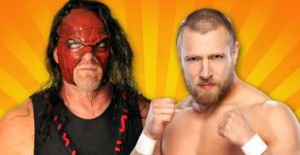 Kane vs Daniel Bryan 
This match is a strange one to me. On one hand, I have been really impressed with how Bryan has been able to make chicken salad out of the WWE writing team's chicken shit when it comes to his character. On the other hand, Kane has done nothing for me personally since we entered the new millennium. This originally looked to be a Daniel Bryan confrontation with Charlie Sheen, and still may, but Sheen's name and Anger Management television show has been mentioned less and less as opposed to more and more. My prediction is either that Kane wins and Bryan and Sheen have a confrontation post match based off of his loss or that Bryan wins and Sheen is nowhere to be found. Under normal circumstances I would say that the lack of Sheen mentions means that he is not going to be on the show but the fact that WWE writing has made less than logical sense lately and Charlie is a well known flake has me saying that either outcome is possible.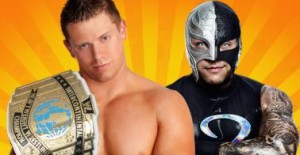 Intercontinental Championship Match: Miz vs Rey Mysterio
This match was "announced" on twitter by RAW General Manager (and bane of my existence) AJ Lee. There has really been no build to this match. Miz is the new IC champion and Rey is back and needed an opponent. I would expect that Miz retains here but either way would be about the same to me. Sadly the Intercontinental title means very little in 2012 and the WWE's treatment of the Miz has been right on par with that of the belt. I would think that this would be an average, decent filler match.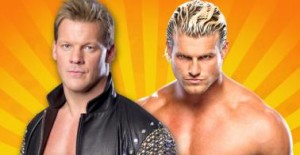 Chris Jericho vs Dolph Ziggler
This is my personal favorite match on the show. I am very glad that Jericho has brought back Y2J and has returned to being a babyface. Ziggler is the current holder of Money In The Bank and is a terrific heel. Jericho's propensity for wanting to put guys over is tailor made for Dolph's current "ready-to-break-the-glass-ceiling" status in WWE. Jericho's ability to put together a match combined with Ziggler's bump ability makes me think that this is the show stealing match of the night. I predict that Jericho wins, given that he guaranteed the win and the story of the match is built around him "not winning the big one". I am hopeful that in a few years we can look back on this match as pivotal in the career of Dolph Ziggler.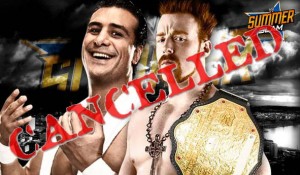 World Title Match: Shemus vs Albero Del Rio
Yes, I'm going to spoil Smackdown for those reading this prior to it airing: THE FREAKIN MATCH IS HAPPENING!! This match feels like it's happened 17 times already this year even though it hasn't. I have not been a fan of the Shemus steals Alberto's car angle nor the suspension of the match by Booker T for Alberto and the fake cops beating on Shemus. My biggest hope for this match is that it airs at the time when the food arrives at Chez Addie so I can eat during it and pay as little attention as possible. There has been NOTHING that has captured my imagination or my desire to see this match. I do like Shemus and expect him to retain the title in this match. My biggest fear is that the feud will continue. I would hope that Dolph Ziggler cashes in his Money In The Bank and wins the World Heavyweight Title in order to start a program with Shemus and let ADR move on to something (anything) else.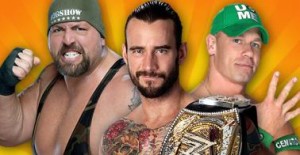 WWE Championship 3 Way Match: CM Punk vs John Cena vs Big Show
I actually consider this match to be the most promoted on Summerslam. The HHH and Brock match has received a big push as well but, without going back and checking, I feel that this match has had the most Television time. This is largely due to the fact that all three men are regulars on RAW, as opposed to both Brock and Hunter. This match should continue CM Punk's heel turn storyline as he search's for respect as WWE Champion. My personal hope is that Punk retains the title and I also feel that this will happen. My prediction for the finishing sequence is that Cena gives The Big Show an Attitude Adjustment and Punk immediately beats on Cena, throws him out of the ring, and pins Show to retain the title. This can allow CM Punk to demand respect and continue his lengthy (by today's standards) title reign en route to facing The Rock at The Royal Rumble.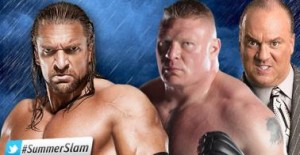 Triple H vs Brock Lesnar
This has been promoted as the main event of the show and I expect it to close the pay per view. At first I thought this was a mixed tag match with HHH and Stephanie vs Brock and Paul Heyman but I was recently informed that, no, this is in fact one on one. This all started when HHH disputed and tore up the contact that Brock signed with John Laurinaitis making Brock snap and break Hunter's arm. Hunter, being the well adjusted and self confident man that he is, sold the broken arm for exactly 41 minutes as he paraded around Las Vegas and elsewhere with no effects save for wearing part of Aurora Rose's robot Halloween costume on his left arm.  He then went on RAW and discussed how his arm didn't hurt and that Brock's attack was nothing. Then on RAW 1000 Stephanie decided to save on psychiatry bills and let the world know that Paul Heyman was not as good as "her daddy" Vince McMahon. This was followed by Shawn Michaels doing a decent job of being scared of Brock on the go home show, ending with an attack on Hunter's little buddy that resulting in Brock breaking his arm. Shawn was to be in HHH's corner at Summerslam but, as of this writing, the storyline is that Shawn will be unable to attend the event. Whether he does or not is fine by me because this match, as well as any Brock match in WWE this year, should really be about the confrontation of the two men in a FIGHT. Despite the crap leading to the match, Paul Heyman's go home RAW promo sold me on the event. Paul is sooooo good at building a match with his promos and this was no different. As for a prediction, Pedigree 1-2-3. Captain Insecurity strikes again.
Well that's announced card for the show. I also would not be surprised to see Ryback-achne beat Jinder Mihal in an unscheduled match and Brodus Clay take on my personal new favorite act in WWE, Damien Sandow. Kevin Rudolf is also scheduled to perform his single, Don't Give Up which is the theme song of this year's Summerslam. Year over year, my interest level is definately down for Summerslam although I am looking more forward to the event than No Way Out of this year. With the Brock and HHH match over it will be interesting to me as to what WWE goes with as the big issues for the Fall. Time will tell but one thing is for sure, I will be watching Summerslam but I won't be anticipating it.
Agree? Disagree? Did I miss something? I'd love to hear from you at addie@wetalkwrestling.com