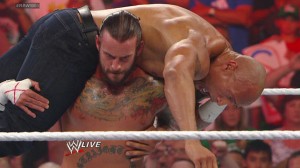 It was definitely the main talking point ever since RAW 1000: The Rock was granted a WWE Title shot at the Royal Rumble against whomever the champion is and the show closed with CM Punk GTS'ing (is that a word?) The Rock. Since that July 23rd edition of RAW, CM Punk has gone on a series of rants demanding respect. If you just read those two sentences alone, you would probably come to the conclusion that CM Punk is now a heel. Ordinarily I'd agree with that but I'm not sure I do and I'll tell you why.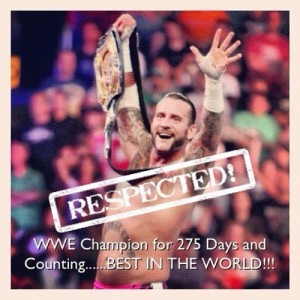 The Respect Factor
CM Punk is demanding respect for being the WWE Champion. His point is that as champion he is the top guy in the company. Isn't that the point of the champion? To be the best? The fact that he hasn't closed a Pay Per View since December has gone from absurd to a logical part of his character and I can't argue with his point. Punk has beaten Alberto Del Rio, The Miz, Chris Jericho, Kane, Daniel Bryan, The Big Show, and John Cena during his latest WWE Title reign. There are only a few current top names on the roster that aren't a part of that list which, again, begs the question to me of how can there be no respect for Punk as Champion. As I mentioned on a recent edition of We Talk Wrestling, if The Miz had done this during his lackluster reign as champion, that would constitute a heel move. CM Punk pointing out the obvious, does not. All CM Punk is asking for is to be respected for his accomplishment. He won the title clean and has not cheated to win any of his subsequent matches. Professional wrestling is a simulated sport. Sports Entertainment or not, winning the title and defending it for almost a year without the help of illegal tactics should be something that is respected by fans, announcers, and other babyface wrestlers. Attempting to portray Punk as a heel is a classic example of not letting the facts get in the way of a story, in my opinion.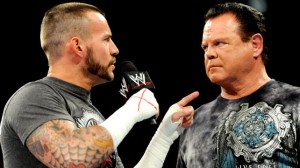 The Credibility of Jerry Lawler
Jerry "The King" Lawler ended RAW 1000 by saying "CM Punk has turned his back on the WWE Universe". Why, because he attacked a wreslter turned movie star that he has consistently stated he didn't like?  Punk has since denied and confronted Lawler about this comment. The problem for me with this is that The King comes off as the one who is wrong in all of their interactions. The fact that King can't call Punk the best says all you need to know about Lawler's credibility. The champion isn't the best? Again I ask: Then why be the Champion? Ludacris. Jerry Lawler is a wrestling legend and a WWE Hall of Famer but he's never been a great announcer, ever. Puppies? Latino Heat!! Lame Hart Family jokes. This is the legacy of Jerry Lawler: Color Analyst. In fact, of the seven ring announcer/commentators in the WWE Hall Of Fame I would put Lawler at the bottom of the list. So when CM Punk is taking issue with The King's opinions on commentary and can logically and eloquently give facts and reasons as to why he disagrees, I side with Punk. I especially side with Punk when Jerry cannot nor does not give any reasons as to why he felt that way. What we got was "I just thought you turned your back on the WWE Universe." Wow, thanks for the insight Jerry. Maybe there's a Senior Prom in Memphis you can go chaperon.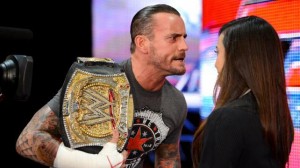 AJ Lee as General Manager
For full disclosure I will say that the character of AJ has pissed me off for months. Ever since the Punk/Bryan/Kane story turned out to be all about AJ, I've wanted her off my Television. So when she was made General Manager of RAW, I cringed knowing the horrible skits we were in store for on the now Three Hour RAW. It was the July 9th edition of RAW where AJ proposed to CM Punk and Punk politely declined. Yes politely. Wow what a dick! So because of that AJ hates Punk and wants to see him lose his WWE title. AND SHE'S THE BABYFACE? Once again Punk points out, correctly, that she has it in for him since he refused to marry her on that RAW yet the announcers portray AJ as doing a great job as GM. Even if I liked AJ in this role, this makes no sense to me at all and I once again find myself siding with Punk in another issue.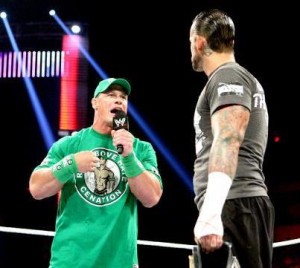 John Cena
John Cena is another person that has come out and denied that Punk is the best. While he did give a great promo to set up the match for the WWE Championship at Night Of The Champions pay per view, Cena is probably the biggest offender of devaluing the notion that wins and loses matter as every RAW after a loss he's all smiles and cracking jokes. So it's hard for me to believe that it has bothered him not to be WWE Champion.  Punk has beaten Cena the last three times that they have met on Pay Per View: Money In The Bank 2011, Summerslam 2011, and Summerslam 2012 in the three way. If I was in court I would now say that these are the facts and they are not in dispute. John Cena is absolutely the WWE's top star but his polarizing persona makes him one of the last wrestlers that I would use to turn a guy heel. I realize that the "Let's Go Cena, Cena Sucks" chants are now just a parody and have very little meaning in terms of his popularity but the fans who will cheer CM Punk are largely the same ones who will boo Cena. So the fact that Punk is demanding respect for holding a title that Cena has historically not indicated is important to him, compounded with Cena's current plethora of detractors makes it impossible to have CM Punk be a full fledged heel.
So to summarize, WWE would like CM Punk to be a heel. They have attempted this by having Punk cut promos that give FACTS to show that he is in the right. WWE has also then pitted Punk against Jerry Lawler, AJ Lee, and John Cena, all of which have credibility issues with fans. In Mick Foley's book he wrote about how a heel needs to believe that he is right in what he is doing and I agree with Mick. There is, however, a HUGE difference in a heel thinking that he is right and actually being right. Not only that but this particular heel has not only been right once but three times IN A ROW! Even the addition of Paul Heyman to the act will not convince me as I most recently sided with Heyman and Brock on RAW 1000 against Stephanie and HHH. The funniest part about this is WWE will be scratching their heads in disbelief when CM Punk is cheered over The Rock at The Royal Rumble in January. Remember when the WWF used to listen to its fanbase? I do and it was wonderful.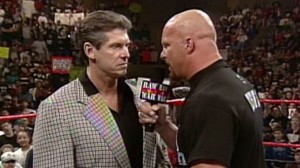 Agree? Disagree? Did I miss something? I'd love to hear from you at addie@wetalkwrestling.com