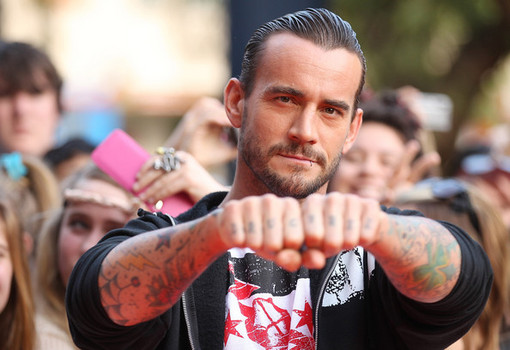 At the Royal Rumble, a People's Elbow ended the longest title reign that WWE has booked in a while. That elbow also started the Road to Wrestlemania and a WWE title match that is Twice In A Lifetime. It also left CM Punk without anything to do at the biggest show of the year, Wrestlemania. For months it was speculated, rumored, and even planned to have CM Punk face The Undertaker for The Streak in what undoubtedly would be one of the top matches on the show. Now comes word that The Undertaker may not be ready in time for Wrestlemania, or ever for that matter, and CM Punk may be in need of a Plan B. While Taker may go through with the match, which I personally hope and think he will do, here is a list that I have complied of possible alternatives should Undertaker be unable to work.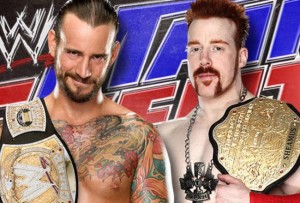 Sheamus
This match up seems improbable since Sheamus seems set to face Randy Orton at Mania, but I include it because it is a somewhat fresh match. Sure it's happened before, but these two have never had a feud before and I am always looking for new, fresh things in my current WWE product. The story doesn't need to be complicated to bring these two together, Sheamus could come on RAW and make fun of Punk losing twice to The Rock the day after Elimination Chamber and Punk could retaliate with an attack during Sheamus' match later in the show. The nice part about this feud being started on the road to Wrestlemania is that I wouldn't feel weird about it continuing at Extreme Rules or even beyond that which gives WWE a new feud happening in the Spring/Summer as well.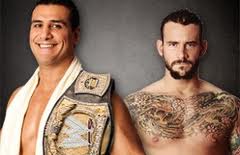 Alberto Del Rio
With the loss of the WWE Title, CM Punk could turn his attention to the World Heavyweight belt especially since it is now held by babyface Alberto Del Rio. Del Rio's issue with The Big Show is on life support as it extends to Elimination Chamber for (I hope) a final showdown.  While it would require a change to the Smackdown Elimination Chamber match, Punk could easily "pull an Edge" and beat down Khali to get into the match after losing to The Rock earlier and win the Chamber. Also, I think that interactions with Paul Heyman and Ricardo Rodriguez would be hilarious!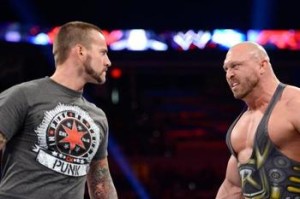 Ryback
Ok, yes we've been there and done that but, while the rumors are that Ryback is set to face a newly heeled Chris Jericho at Mania, nothing has been set with Ryback as far as a solid direction yet. With The Shield now linked to Heyman officially, that could transition into Punk vs Ryback as the man who has been behind all of the attacks.  Since before Hell In The Cell, Ryback has been kept as a top guy but has not been on the winner's share of the purse money in any major matches. Since Punk is teflon at this point, Ryback could go over in an effort to get him back to "monster" form. So, while it isn't my top choice, the man Vince refuses to call The Big Hungry could be a possible opponent for CM Punk.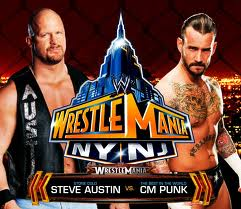 Steve Austin
This match has been rumored for years now and that is the reason that I am throwing it out there. Clearly doing this match at Wrestlemania 29 is stupid for a couple of reasons. First of all, you would want more than a 8 week build for this match. Survivor Series or earlier would be the appropriate starting point for a Wrestlemania culmination of these two men. Secondly, you already have The Rock in the main event and Brock Lesnar in a high profile match. Adding Stone Cold as a third attraction is the law of diminishing returns. I am all for doing this match, but I do it at either Summerslam or Wrestlemania XXX next year.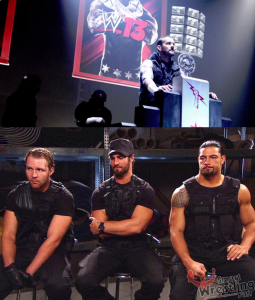 Eight Man Tag with The Shield vs Sheamus, Randy Orton, and Team Hell No
What  I like about this match is that it gives The Shield the rub of being in the ring with top guys at Wrestlemania. All of the babyfaces have been attacked by The Shield and with Paul Heyman and CM Punk behind them, this match at least can make sense. The rumored Sheamus vs Randy Orton match could be held off and the trigger to start that feud and a Randy Orton heel turn could happen in this match. In addition, Team Hell No could peel off with The Shield for the Tag Team titles after Wrestlemania as well. The only reason I don't like this match for Punk is because the only person that this match doesn't help IS PUNK! After the longest WWE Title run of "the modern era" CM Punk can afford to be a team player here but I would still rather see Punk continue his momentum especially after suffering two straight losses to The Rock.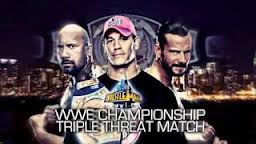 A Three Way with The Rock and John Cena
This match does the opposite of the eight man tag as it benefits CM Punk but hurts the other two in the match. Regardless of how you feel about "Once In A Lifetime", The Rock vs John Cena for the WWE title with John Cena winning the title is the right thing for business and the match that will earn the biggest buyrate for WWE. Adding CM Punk hurts the match no question. Sure Punk could add a lot with promos but the money match is one on one. If The Rock is up for it, I would do the Three Way Match at Extreme Rules after Wrestlemania. The three way is an easy out for Mania, but I would be adamant that WWE resists the urge and goes another direction with Punk.
So those are some of the options. Obviously none are as good as CM Punk vs Undertaker for the streak but WWE may be forced to come up with an alternative and in a hurry. Of the choices I listed above I personally like the Eight Man tag match the best. Sadly everyone ages and The Undertaker, if not this year, will be facing his final match shortly. CM Punk is the only choice for Undertaker should he wrestle this year and it is looking like the pickings are slim for someone other than Taker for Punk as well. Hopefully Undertaker can find a way to do this match because Undertaker vs CM Punk is truly the match I am wanting to see!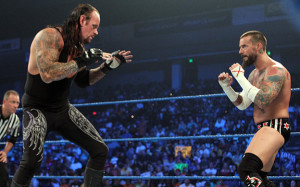 Agree? Disagree? Did I miss something? I'd love to hear from you at addie@wetalkwrestling.com