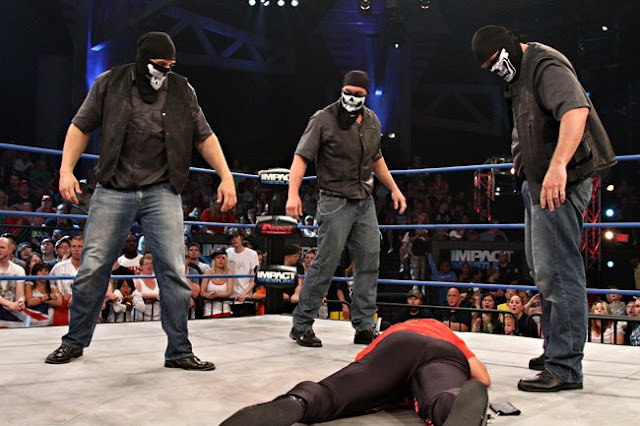 Over the last few months TNA Impact has been markedly better. The segments have usually all had a purpose to further angles and, more importantly, the angles have been paced SLOWWER so that people can invest in seeing the payoff. One of my favorite angles that has recently started has been with the Aces and Eights faction.
It began with an attack on Sting and then Hogan. It should be noted that, as mentioned, these two attacks happened a month apart. On the July 19th Impact, Aces and Eights were all over the show. They attacked Kurt Angle, the gutcheck contestant, and the show ended with a duel beatdown on Austin Aries and Robert Roode (or Rooo for you Botchamania fans).  Despite all of this Television time no one is really sure who is in this group of masked men and, for that matter, how many people are in the group.
For me, the final group should be around 5 to 6 members. This is a decent size and avoids "NWO'ing" the faction. I would also like to see this group consist of a mix of existing TNA talent and new members of the roster.  With that said, here is my nominees for the Aces and Eights:
1. Chris Masters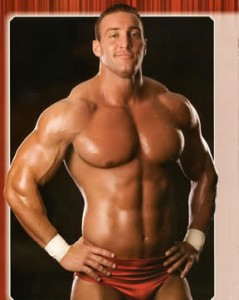 Chris Mordetzky aka Masters is one guy that definitely improved under the radar in his last WWE run. A fact that CM Punk even referenced on RAW after Masters was fired. Chris has the size and the ability to be a good addition to the TNA roster. Chris recently was in the Ring Ka King promotion in India under the name American Adonis. Since Ka King had/has and affiliation with TNA, Masters is well known to many of the company's office staff already. Chris showed charisma in WWE and if his workrate is still what it was at the end of his WWE tenure, or better, then he would be a welcomed hired gun in Aces and Eights.
2. Trevor Murdoch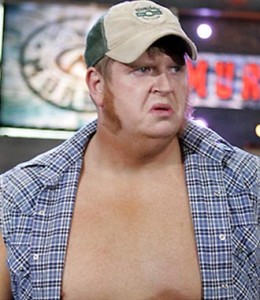 Trevor is a talent that never really got a run in WWE due to "his look". While this may be the case, it's his look that makes me want to put him in this group. Aces and Eights have been portrayed as thugs and that's exactly type of role ready made for someone with the build of William Mueller. This is another benefit of TNA's involvement with Ring Ka King as he also competed there under the name Roscoe Jackson. Muller also had a short lived TNA career in 2009 under the name "The Outlaw" Jethro Holliday. Murdoch was another former WWE midcarder who showed tremendous charisma in the brief times that he was allowed to display personality. I see him as someone who can be the Cowboy villain, a foil to James Storm for starters.
3. Gunner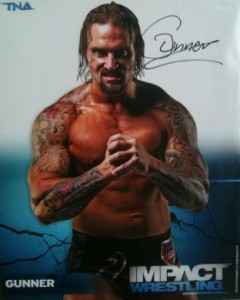 So here is the first active TNA wrestler that I put into the group. When Gunner first started out in a tag team with Murphy I thought that he would be one of Vince Russo's dime-a-dozen after thoughts in a few months. I was wrong. While Murphy was not so fortunate (no pun intended), Gunner was able to improve his work through a series of undercard matches in late 2011 and early 2012. He has been able to have Ric Flair and Eric Bischoff second him to the ring. Gunner has been absent from TNA for a few months now without a storyline explanation. This past May it was announced that Gunner had signed a new 3 year deal with Impact Wrestling so he isn't a free agent. By having Gunner in the group it reduces the feeling of a rehash "Outsider" gimmick to Aces and Eights, thrusts Gunner into a main storyline, and also gives a unique angle for Gunner as a man who turned his back on the company.
4. Luke Gallows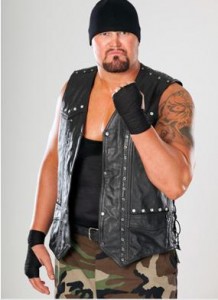 The speculation is that Drew Hankinson aka Luke Gallows has been involved in every attack to date on Impact. The fact that while the people under the masks have not been consistent yet Hankinson has always been a part of the group speaks to a high probability that he will make the final cut. This is a good thing. Gallows was another person whom was singled out by Punk during his "contract signing" as someone that should not have been released by WWE. His Impostor Kane stint aside, he was a very competent big man and I was surprised when WWE released him for that reason. Drew is another Ring Ka King alumnus as he wrestled there under the name "The Outlaw" Isaiah Cash. He is a man with a great look for a rebel group and his style as Luke Gallows is a natural fit for Aces and Eights in my opinion. Yes, more so than Festus.
5. Harry Smith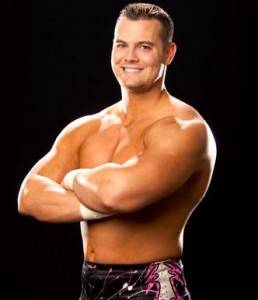 The man WWE branded as David Hart Smith is one of the best pure athletic big man talents I have ever seen in wrestling. The knock on Harry is his promo ability which can be hidden, and even exploited, in a stable of this size. Harry falls into the two common themes of this group. Firstly, he was another man mentioned by CM Punk as a talent who was fired unjustly and, secondly, Smith competed in Ring Ka Ring using the name Bulldog Hart. Harry has been training MMA which, in my opinion, would lead to great matches with both Kurt Angle and Samoa Joe and is a great technical big man wrestler, just like his father. To me, Harry Smith would be the silent assassin of Aces and Eights.
Those are my personal top five picks for Aces and Eights. I could see the need for an X division wrestler in the group and Wes Brisco has been widely rumored to be filling that slot. I do think that the group does need a leader. Someone who is already a main eventer that can "give the rub" to the rest of the faction. There is someone that I could see coming back to TNA that has been gone since December of 2011, someone who has a reason to attack Sting, Hogan, and Kurt Angle. The man that I would have as the puppet master of Aces and Eights would be: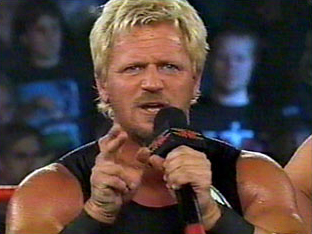 I wouldn't use Jeff as the main eventer for the group as his time has long since come and gone for that role (some would argue that his main event time should have never come in the first place). Jarrett would have a storyline gripe with the babyfaces that makes sense and gives the group someone who has been established at the top of the TNA cards. I would use Jeff as the manager for Aces and Eights and he could do one match a year if the story required.  Regardless of who TNA chooses to put in the stable, I am definitely hooked on the Aces and Eights storyline and I can't wait for the next chapter!
Agree? Disagree? Did I miss something? I'd love to hear from you at addie@wetalkwrestling.com
Also if you liked this, check out our Blog page
HERE
for more great articles and subscribe on iTunes to our podcast
HERE
The latest edition of We Talk Wrestling podcast is right
HERE